What's the World Billiards Championship?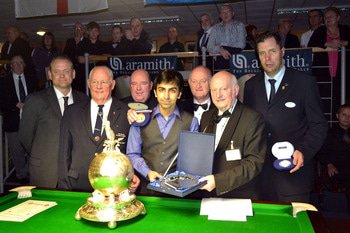 As the game of billiards grew, it went various and innumerable changes as it become more competitive and more known across the globe. Today, whether you're from an unknown, small city or from the largest and most blooming ones in America, you'll all be allowed to face the thrill and excitement which the game of billiards bring. However, in the midst of it all, its worldwide popularity has allowed it to produce a competition that will also test players across the globe which is above all other games we know of, but still, every player will surely crave to be part of - that's the world billiards championships.
The World Billiards Championships by the World Professional Billiards and Snooker Association also known as WPBSA plays on the rules of the English Billiard and is known throughout the globe to be a competition laid out for professional players. Although there are various amateur world tournaments for the game, this one is undeniably more popular as it is of professional level and still runs on the rules that dates back on 1899 from the past Association for the game.
Before being called as such, the World Billiards Championships was also known in various names like 'Billiard Championship of the World' and even 'World Professional Billiard Championship'. When the tournament was transferred and administered by the revered WPBSA on the year 1980, the tournament was then made annually, giving the players something to look forward to in each year that passes by. Many people have made their names renowned across the industry and the world through this game like Mike Russell, Pankaj Advani, Geet Sethi, and a whole lot more. If you wish to hold such triumphant achievement, then it's a given that this tournament should be the one you've set your eyes on.