Who is Minnesota Fats?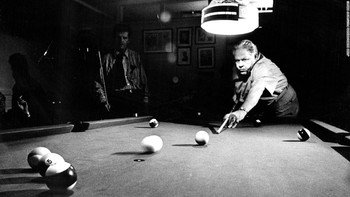 There was definitely a point in time where Minnesota Fats became a name that resounded across the globe especially on the pool industry. Of course, even today, many may still be able to recognize this name, however, those who knew of this name will surely be aware that it belonged not to an actual person, but to a fictional character that existed only on the novels written by the revered author of "The Color of Money" and "The Hustler", Walter Tevis.
Minnesota Fats, in the novels, was a pool hustler with a real name in the story, 'George Hegerman' (though this character is also fictional). The character was not the protagonist of the story, but when 'The Hustler' was turned and adapted into a film, this character became equally known together with the protagonist. It was portrayed by the popular actor, Jackie Gleason, and this paved way for him to earn various awards. He was awarded with nominations for the 'Best Supporting Actor' for the prestigious Golden Globe and Academy Award. He then won the 'National Board of Review of Motion Pictures' as the Best Supporting Actor as well.
Unfortunately, when the sequel for the movie was on its way, no one expected that the first movie would be the last where they would see Minnesota Fats. The Color of Money deviated far from the novel and didn't feature the character again. However, sensing that the name was completely renowned, a man with an alias 'New York Fats' came up and change his name with the Minnesota alias in order to gain fame. He even brought the Minnesota alias to another film called 'The Player' which caught the attention of Walter. It was then that he claimed the name to be entirely fictional and wasn't in any way related to Rudolf Wanderone, the imitator.